Berwick Through Time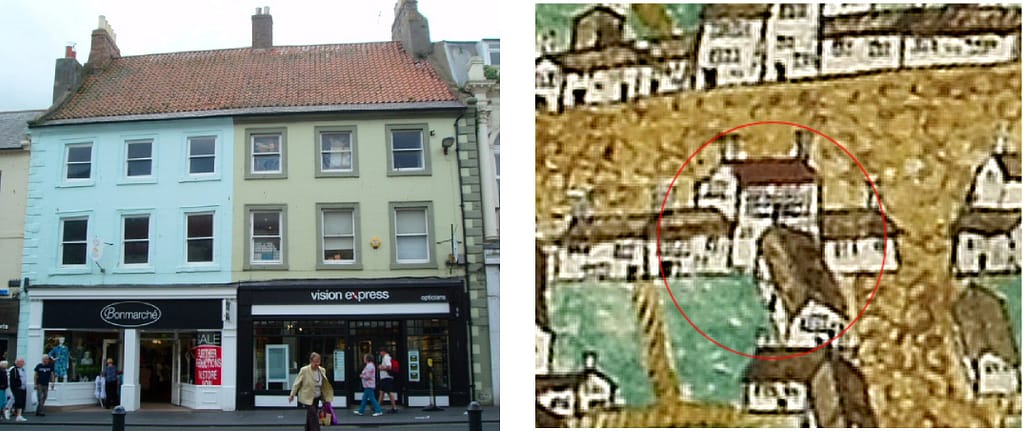 51 Marygate, now Vision Express, belonged to the Rugg family. Thomas Rugg was a wealthy cloth-dealer or mercer who traded between London and Scotland. He and his wife Jane moved to Berwick in 1562 and in 1563 he was made a Freeman, with permission to trade from a shop in the street. He chose a property in the market place and soon he and his neighbour agreed to add a third storey to their houses. The large windows facing the river would have provided good views of the river and made the interiors much lighter; Rugg may have taken his wealthier customers upstairs to admire the high-quality fabrics more closely.
An imaginary view inside Rugg's shop, based on his probate inventory. Jane sells spices to a customer in the street. Thomas Rugg is admiring the new painted cloth borders hung around the walls. Two soldiers relax on the settle; one tries on socks while the other wonders whether to buy a hat for his girlfriend or new strings for his lute.
In 1584 Thomas's son Toby upgraded the house further by re-roofing the rear range to provide two upstairs bedrooms and a kitchen separate from the hall.
The family business did not last long in Berwick. After Thomas's death in 1573 Jane married his assistant, allowing the business to continue. However it relied heavily on custom from the garrison and by the late 16th century there were fewer soldiers in the town. But Rugg's probate inventory (a list of possessions taken after his death) gives a fascinating glimpse into his shop at a time when it was still thriving and customers could sit in comfort on a 'long settle' below 'painted borders' and admire shelves filled with lengths of colurful cloth and all sorts of other goods from frying pans to socks and reams of paper, while the scent of spices perfumed the air.
For more detail on Rugg's inventory and the sources used in this page, click here.