Anyone know anything about cameras? How about filming? Editing things together? Nope. Well neither do I. Or should I say neither did I, because now I can just about get by.
Where has this new skill come from? Well its all thanks to producing a virtual Heritage Open Days!
Since July the HODs team have been working hard to video walks around the town so that you can discover Berwick's heritage from your own home. This was a big task for us but we rose to the occasion and tried our best. This is what it looked like from behind the camera.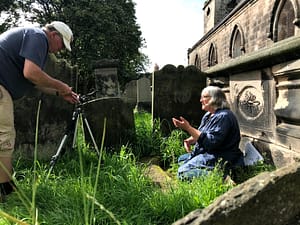 Interruptions
Something you don't think very much about when you set up your tripod is how many interruptions there will be, but believe me it is constant. We had them all – traffic, walkers, dogs, cyclists and even birds. But my personal favourite was trains. Big and loud they would never fail to ruin a shot.
Odd Positioning
Trying to get the right angle is hard, especially for novices like us, but trying to fit something other than the narrator into the shot makes it ten times harder. Our poor presenters were crouched in front of walls, stuffed into damp lightless rooms and sprawled on the grass in pursuit of the perfect take.
Views
One perk of wandering around Berwick for several days was the views. In every direction there was stunning scenery. From Tweedmouth Parish Church I gained a new perspective of what Berwick looks like from the other side of the Tweed. Similarly the scale of the Royal Border Bridge only hits you when you are standing directly underneath it looking up to the top of the arches 60 feet above you. However, I thought the most impressive view was from Meg's Mount. The roofs of town behind you, the sea out to your left and the river winking up at you from below.
We hope you enjoy our videos which will be available on our website from 11th September 00:00, there is a wide variety so whether you're interested in people, medieval defences or just want to learn a little bit more about the town there is plenty to see.