Its Sunday, and to me Sundays are always family days. Have a lie in, maybe have breakfast together then do something like go for a walk or if its raining watch a film or play a board game. Whatever it is you have planned this Sunday here are some things going on in Berwick today that you can incorporate into your plans.
Heritage Question Time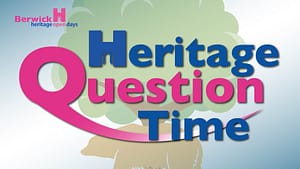 We are very excited for our first live online event to take place today. At 4pm this afternoon our panel of experts will be taking on questions submitted by you about Berwick, Tweedmouth and Spittal. If you would like to book a place please email info@berwickhods.org.uk, don't worry if you miss it this time round because there will be a part 2 next Sunday at the same time.
Berwick Through Time
Our Berwick Through Time series about buildings in Berwick continues Today's installment is about Berwick Parish Church, a unique building in England never mind Berwick. Discover what makes this building so special ….
Online Videos
Have you had a chance to look at any of our online video tours yet? There are 8 to choose from so there is something for everyone. Today I am particularly going to recommend Dr Catherine Kent's Medieval Tweedmouth video which I watched yesterday and found fascinating. Going around Tweedmouth with Catherine you learn about castles, saints and even the Goody Patchy from the Romans to Tudor times. (click here to view videos)
Quiz
Have you had a chance to try out our Secret Berwick quiz yet? If not you must give it a go! Test your knowledge of the town by guessing where the buildings are in Berwick, Tweedmouth and Spittal. (click here to take quiz)
Self Guided Walks
For one of your Sunday family walks why not try one of our local trails. Whether you're interested in art, geology or are just looking for something family friendly there is plenty to try out! (click here for a list of walks)