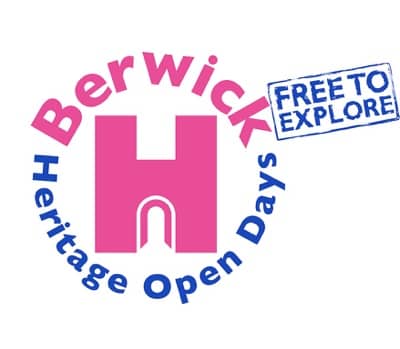 Its Wednesday and we are officially half way through Berwick Heritage Open Days 2021! It seems strange that after all those month of hard work behind the scenes HODS goes so quickly. Before we know it Sunday will come around and that will be it until next year. So don't miss your chance to enjoy Berwick HODS 2021 and all it has to offer.
In Person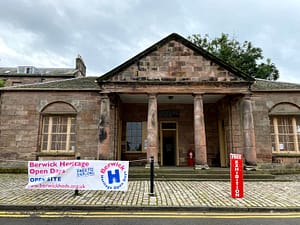 Today we have several in person events available to visit. Our Secret Spittal and Bridge Street Revealed events continue throughout the week and are available at any time because of the way they are displayed. If you haven't yet heard of them then where have you been? No literally where have you been because I've been shouting about these wonderful self guided walks for 5 days already. To enrich your experience of Secret Spittal why not visit our manned volunteer point at 17 Main Street, Spittal to have a chat with researchers and maybe pick up Edible Spittal guide. If you have already visited Bridge Street Revealed then why not join architectural historian Catherine Kent's talk tomorrow night at 7pm about the evolution of the Quayside and Bridge Street area. Book here via eventbrite. Booking closes at 5pm tomorrow.
There are also several indoor activities you can explore today just in case the beautiful British weather takes a turn. To get a feel for the Berwick of bygone times why not visit The Main Guard or Berwick Visitor Centre? Both places have wonderful displays on the history of the town, the connection with the River Tweed and Berwick's garrison past. If you prefer more recent history or if you are local and fancy a trip down memory lane then the Portrait of a Town exhibition in the Granary Gallery is definitely for you! This exhibition of photographs from the last 60 years offers a unique insight into life in Berwick and how it has changed. Who knows you might even spot yourself in one of the photos! Guided tours of the exhibition are also available today, Saturday and Sunday. Book here via eventbrite.
Online
Busy day at the office? Busy day in the garden? Hectic market day traffic making you stressed? Why not relax and unwind with some of our online videos and quizzes. Explore Berwick's history by watching one of our films, there are so many and they cover such a variety of subjects and periods that you should find something to interest you. Whether you are a local wanting to discover more about your area or a visitor just interested by the town then we've got you covered.
Test your skills with our Secret Berwick Quiz and Berwick Then and Now. These two picture quizzes will challenge your knowledge of Berwick and test your skills of observation. let us know how you did through social media.
Our Berwick Through Time spotlight on local buildings and landmarks continues today with a short video about the history of St Andrew's Wallace Green Church. You can also see the previous entries for this week including Berwick Barracks, Ye Olde Tavern wall paintings, the Old Bridge and more.
Coming Up
Although we already have a lot of events on today and tomorrow for you to enjoy Friday is when it really kicks off. And I mean big style. There are so many free things to do this weekend that I don't know how we've managed to fit them all in. Seriously I don't! we have in person guided walks around the town led by the wonderful Jim Herbert, Linda Bankier and Catherine Kent. The Town Hall is open on Saturday and Sunday as our weekend HODS hub so please do come and visit us to see what you can do around town. On Saturday alone we have 17 buildings around town open for FREE and many of them the public are unable to visit normally. So what are you waiting for? Have a look at our programme and decide where is calling you this weekend.