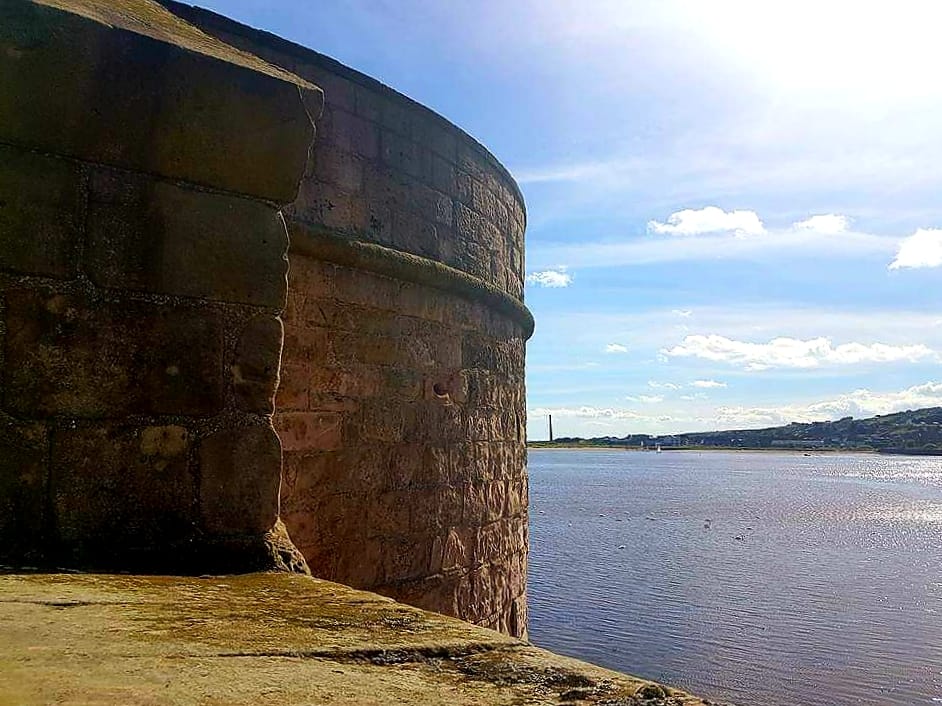 Its Saturday and the perfect time to explore Berwick on your own or with your family! We have loads of buildings open for FREE that you can explore. Our hub for the weekend is the Town Hall so why not come and visit us to see what we have on.
In Person Activities
Bridge Street Revealed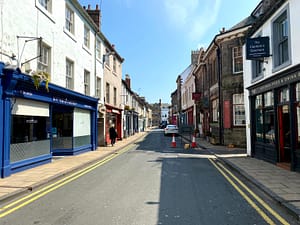 If you are in town today why not walk along Bridge Street and discover Bridge Street Revealed. Walk along the vibrant street and learn about the history of various shops and buildings along the way. Look out for posters in shop windows and you'll know you are on the right track. Open all day.
Secret Spittal
Similar to Bridge Street Revealed I also recommend you take a look around Spittal and enjoy our Secret Spittal self-guided walk. Find out about Spittal of the past and present by looking for posters in windows, on gates and on lamp posts with historical information on them. This walk is available throughout the day but there will be a manned information point between 2pm and 3pm at 17 Main Street. Have a chat to volunteers and maybe pick up an Edible Spittal leaflet.
Main Guard
This building has been open throughout the week but if you haven't yet had a chance to go then I really would recommend. The Main Guard was originally situated on Marygate but during the 19th century it was carefully dismantled and moved to Palace Green where it still stands. There are currently two exhibitions displayed for visitors and they can also see the 'black hole' where drunks and vagrants would be locked up. Open today 10am – 4pm.
Old Coastguard Station
This site may be slightly out of the way but it is 100% worth a visit even if it is just for the views. The tower was built in 1964 but closed down several years later and became derelict. Now it is run and maintained by Berwick Coastwatch who keep an eye on local coastal areas as well as monitoring marine distress channels. Visit this tower near Magdalene Fields Golf Course to take in the scenery, chat to volunteers and see local wildlife. Open today 10am – 4pm.
St Andrews Wallace Green Church
One of only 8 Church of Scotland churches in England this 162 year-old building is very striking from both outside and in. Boasting beautiful stained glass windows and a light airy interior this is a must see for all who appreciate a high ceiling. Open 10am – 4pm.
Sandstell Fishing Shiel
Sandstell Fishing Shiel in Spittal is a wonderfully preserved example of fishing accommodation on the River Tweed. Traditionally the word 'shiel' referred to seasonal accommodation used by salmon fisherman in North Northumberland during the salmon fishing season from 1st February to 30th November. Sandstell Shiel dates back to the 1730s and shows what life would have been like for fishermen in days gone by. Open 10am – 4pm.
Berwick Lifeboat Station
The lifeboat has a long history in Berwick and over the years its location in the town has changed. For over 100 years the lifeboat has been stationed at Carr Rock in Spittal and today it is open to the public for free. Grab this rare opportunity and use your chance to discover more about the lifeboat and its brave crew. Open 10am – 4pm.
Berwick Barracks
This year Berwick Barrack's celebrated its 300th birthday and for Heritage Open Days the entire site is open for free on Saturday and Sunday. The complex was built in the 18th century and was one of the first purpose built barracks in England. It remained in active use until 1963. Now it houses 2 museums and the renowned art collection of Sir William Burrell. Open 10am – 5pm.
Berwick Holy Trinity and St Mary Parish Church
You may know the Berwick Parish Church because of its prominent position on the town's walls. This building is actually far more historically important than you would presume as it is a very rare example of an Anglican Church that was built during the Commonwealth Period. The church was constructed using stone and timber from the disused Berwick Castle and was opened in 1652. The layout of the church is very unique as is its flat roof. Open today 10am – 12pm and 2pm – 4pm.
New Tower
The New Tower is quite literally a hidden gem of Berwick's historical past because good luck in finding it! I'm joking it isn't quite as hard to find as Narnia but it does come close. Luckily we have been putting up lost of signs around town to help you find where everything is. The New Tower is best described as down the alley to the left of the Main Guard (and if you don't know where that is then you really are going to get lost). Look for some volunteer is high viz vests and a hole in the wall and you'll know you are in the right place. If you are brave enough to go through the tunnel in the walls (now this really is sounding like Narnia!) then you will be treated to a sight seen by very few people over the last few centuries. Open 10am – 12pm and 1pm – 3pm.
The Gunpowder Magazine
Another familiar building on the town walls is undoubtedly the Gunpowder Magazine next to the Lions House. This purpose built ammunition store was constructed in 1749 to serve the nearby Berwick Barracks. The building was carefully designed to keep gunpowder dry, withstand explosions and avoid the possibility of making sparks. Come and see the inside of this building for yourself today! Open 11am – 3pm.
Tweedmouth Parish Church of St Bartholomew and St Boisil
This church is interesting because of its notable burials and the fact it is a rare example of a pre-Victorian church with later additions. The site reveals secrets of an earlier medieval church and religious building on the site going back to the 12th century. Open 11am – 4pm.
Cumberland Bastion
Do not miss the amazing opportunity to see inside Berwick's Elizabethan defences. Enter a tunnel in Coxon's lane, go through the walls and emerge into Cumberland Bastion. These walls were built under the threat of invasion from Scotland and Berwick was the first northern European town to be defended by this system of ramparts and bastions (an advanced defence technology of its time). Open 12pm – 4pm.
Bankhill Ice House
This is perhaps the most well known of Berwick's ice houses and it is certainly the most obvious. The building was constructed in 18th century and used to store fish before its transportation to London. Ice blocks were used to keep the vast room cool and they were layered with sawdust to prevent them all freezing together. Buildings like these were used until the 1930s. During WWII it was also used as an air raid shelter. Open today 12pm – 3pm.
Free Trade Inn
Enter a traditional 19th century small urban pub. Step back into the past with the help of an exhibition and the original features you can see. Open 12pm – 5pm.
Coxon's Tower
Another (and thankfully far more visible) tower on the walls that will be open this weekend is Coxon's Tower, at the other end of Wellington Terrace to the New Tower. There is an upstairs to the tower that can be accessed everyday by the public and is a good viewing point to take in Spittal, Tweedmouth and the sea. However there is also a lower level that is rarely open. Enter this underground chamber to see Berwick's medieval defences up close and learn about the tower that has guarded the river estuary for over 600 years. Open 1pm – 4pm.
Portrait of a Town
This exhibition has been open in the Granary Gallery for several months but for Heritage Open Days it has created a rolling slide show that relates to the HODS Edible England theme. The Portrait of a Town photographic exhibition has been created from a collection obtained from The Photo Centre photonews service upon the business' closure in 2012. The collection offers a unique insight into life in Berwick and the surrounding area over the last 60 years. Open 11am – 4pm. Guided tour of the exhibition at 2pm.
Walks
Elizabethan Walls
Join local historian Jim Herbert as he explains how and why the Elizabethan Walls, Berwick's most iconic feature, were built. 10am and 2pm. Book via eventbrite.
Longridge Towers School
This grand building has been used as school for several decades, first housing St Mary's Convent School and more recently Longridge Towers School. However it was originally built as a private house by Sir Hubert and Lady Annie Jerningham. Book on one of our 3 scheduled guided tours this Saturday to discover the world of the Jerninghams or maybe walk down the corridors of your youth. Tours at 10.30am, 11.45am and 1pm.
Edible Plants
Join Parks Officer Kate Dixon for a walk around the Castle Vale and Coronation Parks highlighting edible plants and the parks' history. Both parks were opened in the 1930s and restored in 2013 with the help or Lottery Funding. They are now managed by Northumberland Country Council. Book via eventbrite.
Greenses Arabs and Fish Tales
Join local Archivist Linda Bankier as she leads a short walk around the Greenses and tells stories of the families of the area. Book via eventbrite.
Online
Berwick Through Time
On our website we have loads and loads and loads of online content for you to explore so here is an attempt to break it down into understandable chunks. Every day we are adding a new feature to our Berwick Through Time gallery. Berwick is home to a host of fascinating buildings and landmarks so every day we are exploring the history of different ones through blog posts or short videos. Take a look at our website to see what buildings we have investigated this week and if you like them then the 2020 version of Berwick Through Time is also available from last year. Click here to visit Berwick Through Time.
Quizzes
Test your local knowledge with our two quizzes. Secret Berwick challenges your powers of observation by asking you to identify buildings, landmarks and inscriptions. It is a chance to test how much you really know about Berwick! Let us know what you thought of the quiz or tell us your score via social media @hodsberwick. The 2020 version of Secret Berwick is also available if you just can't get enough. Click here to try the Secret Berwick Quiz
We also have a second quiz that tests your knowledge in a different way. Berwick Then and Now asks you to match up old pictures of Berwick with their modern equivalents and you might be surprised how much has changed (or how much has stayed the same!). Click here to try Berwick Then and Now.
Videos
If you are unable to get out of the house to see our events in person, if you live to far away or if you just want to enjoy the peace and quiet of your weekend without having to talk to anyone then we have the perfect thing for you. Our collection of online videos makes you feel as if you are in the room and experiencing things first hand. Click here to visit videos page of our website. We have a lot to choose from so there is something for everyone. Here is a list of what you can enjoy:
Bell Ringing in the Town Hall
Berwick Castle
From Ditch to Bastion
Elizabethan Walls
Greenses Arabs and Fish Tales
Berwick Holy Trinity
Riverside Walls
The South Prospect of Berwick-upon-Tweed
Tweedmouth Church – 1350 Years of History
Wilmott's Air Fortress